From the final frontier to TV shows, the most popular online slot machines have consistent and engaging themes combined with attractive features to captivate any player.
The Top 5 Most Popular Online Slot Machines
You could spend years trying to play all of the online slot games available. Microgaming alone has over 350 titles, and while you may find a few hidden gems playing random games the following games are tried and true favorites.
5. Family Guy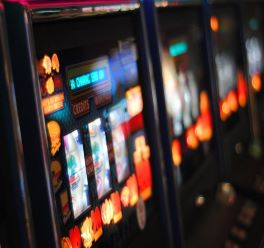 What the deuce? This game based off the hit animated TV show is an IGT home run. Featuring the catchy theme song and all of your favorite characters, this title uses a 3x5 reel and offers three bonus rounds. Each round is specific to the Lois, Peter, or Stewie character symbols, and they give you the chance to win up to $100,000. Only Meg would pass this one up.
4. Beach Life
Smell that salty breeze and sip on an ice cold Hurricane as you enjoy this popular 5-reel 20-payline game by Playtech. A massive progressive jackpot attracts players from all over and keeps them coming with a scatter, wilds, and a juicy bonus round. Symbols like ice cream cones, scuba divers, popsicles, and dazzling suns place you right on the sandy shore, and a big win from this progressive game could make beach living your reality.
3. A Night Out
Get out on the town with another hit Playtech game featuring beautiful women, cocktails, and other good time symbols. You can unlock a bonus round with a couple well-placed bonus symbols, and a scatter and wilds give you the chance to win even bigger as you dance the night away. This game has quickly become one of Playtech's most sought-after titles.
2. Desert Treasure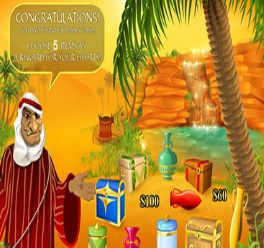 Despite its dated graphics, this 2006 game is one of the most popular of all time. This title has 5 reels with 20 paylines, and is yet another Playtech success. Traditional card symbols are mixed in with common desert icons like camels and oases, and this game offers wilds, bonus symbols, and a scatter. While the gameplay is nothing too unique, its fantastic payout schedule has elevated this game high among the ranks of most loved games.
1. Starburst
It is likely that NetEnt themselves did not even anticipate how much of a smash hit this game would become. Launch into outer space with this 5-reel 10-payline intergalactic game, and enjoy lively symbols that sparkle and shine when you hit combos as well as sticky wilds and several other bonus features. Starburst has something to offer every player, and its title of most popular game is well deserved.
Where to Play the Most Popular Slot Games
There are several online casinos that carry these titles, and many give you the choice to download or play instantly. You can also find them in apps for your mobile devices so you can enjoy these games on the go. However you choose to play you do not want to pass up these fantastic titles.